Descriptions
CMAC Scale Rally 2018!
The CMAC 2018 Scale Rally is on the weekend of September 1st and 2nd. Come along and be part of the fun!
$25 entry per pilot
As many planes as you like
Camping available, toilet and shower onsite
Canteen available all weekend
Open to all MAAA members
heavy model certification required for aircraft over 7kg
For further information email president@cmac.org.au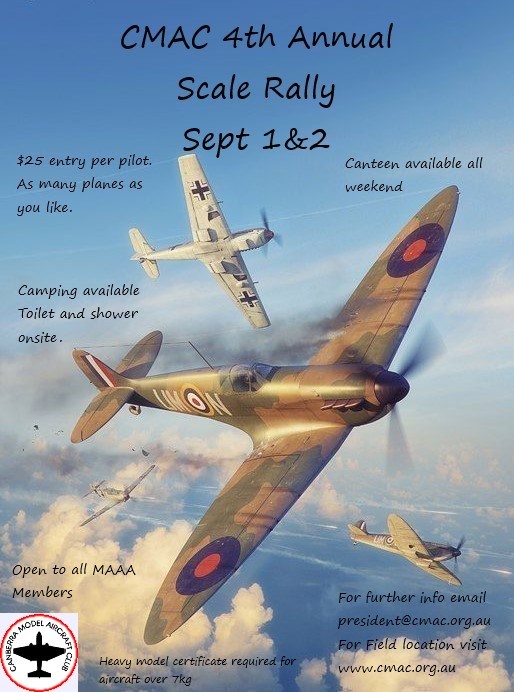 CMAC Annual General Meeting: 16th August 2018 commencing 7PM at Irish Club, Parkinson Street Weston
The Annual General Meeting of the Club is to be held
at Canberra Irish Club, 6 Parkinson St, Weston, ACT
on Thursday 16th August 2018, commencing at 7 pm.
Apologies to the Secretary
email to: secretary@cmac.org.au
Please note the following:
Formal nominations for the Executive (President, Vice President, Secretary, Treasurer) and Management Committee (Six Positions) are required.
Written nominations, endorsed by two club members and by the candidate, are to be delivered to the Secretary at least 7 days prior to the AGM. Nomination forms can be delivered by hand, or scanned and sent by email or by post.
Formal nominations will take precedence over nominations put forward at the AGM.
Only full financial members of the club for the FY2018/19 are entitled to vote at the meeting.