Model of Month 2015
December 2015
Tom Ruut (AUS 37962) is very pleased with his Great Planes "Giant Big Stik" ARF giant-scale sports model aircraft, reporting that it is "easy to fly".

This model has 2.045m wingspan, weighs in at 6.5Kg and is powered by a DZY 48cc horizontally-opposed twin petrol engine. Tom say that this Chinese-made motor "is a good match but no longer in production." For radio control Tom chose a Futaba 18MZ transmitter.

Check out the Great Planes website advertisement for this model at Supersized Stik


November 2015
Steve Millar (AUS 69194) has a new Great Planes "Dirty Birdy", powered by an OS 65AX glow motor. Great Planes describe their new product as an ARF .60 Sport/Pattern Plane, based on Joe Bridi's classic Dirty Birdy pattern ship plans from 1975.

For a detailed review of this model, with a great set of construction photos, see RCU Review: Great Planes Dirty Birdy ARF .

Steve reported happily that, on it's first flight on 18 October, his new Birdy flew around the circuit "as if on rails". BTW Steve got his Big Birdy from Terry and the team at Monaro Models and Hobbies, Fyshwick.


October 2015
Matt Chambers (AUS 69108) is now the third satisfied owner of this great-looking Cermark 87" Yak 55. Stewart Barber had it first, nearly a decade ago, then Paul Pringle.

The Yak's engine is a DL 50cc, and smoke come from a Sullivans Skywriter pump using Aviation smoke oil.

For a review of this model see Flying Giants: Yak 55 Review


September 2015
Risto Petreski (AUS 44124) is the proud owner of a new World Models Commander (aka AirMaster).

With a 2.4m wingspan and 55cc motor, this is a large model. Risto describes it as a "Pattern Trainer", there being no Pattern Aerobatics competition class for models quite this size.

The Commander is powered by a DLE 55RA with canister exhaust system and is controlled by a JR DSX11X radio system with six high-torque servos.

More info:
World Models AirMaster ARF Kit
DLE-55RA Gasoline Engine
JR DSX11 2.4Ghz DSM2 11ch R/C System

August 2015
Brett Cadwallader shows off his new Focke-Wulf Fw 190, built from:
Wikipedia reminds us that:

"The Focke-Wulf Fw 190 Würger (English: Shrike) is a German single-seat, single-engine fighter aircraft designed by Kurt Tank in the late 1930s and widely used during World War II. Along with its well-known counterpart, the Messerschmitt Bf 109, the Fw 190 became the backbone of the Luftwaffe's Jagdwaffe (Fighter Force).

The twin-row BMW 801 radial engine (1,150-1,470 kW) that powered most operational versions enabled the Fw 190 to lift larger loads than the Bf 109, allowing its use as a day fighter, fighter-bomber, ground-attack aircraft and, to a lesser degree, night fighter."
July 2015
Andrew "Plucka" Doré recently finished this outstanding scale model of the Hawker Sea Fury. It has a 1,950 mm wingspan and weighs 6.6kg.

He chose these components:
Wikipedia tells us:

"The Sea Fury was a British fighter aircraft designed and manufactured by Hawker. It was the last propeller-driven fighter to serve with the Royal Navy, and also one of the fastest production single piston-engined aircraft ever built.

Power plant was the Centaurus, the final development of the Bristol Engine Company's series of sleeve valve radial aircraft engines, an 18-cylinder, two-row design that eventually delivered over 3,000 hp".
June 2015
A real eye-catcher at CMAC is Steve Millar's giant-scale model of the Republic P-47 Thunderbolt, one of the largest and heaviest fighter aircraft in history to be powered by a single piston engine. Nicknamed the "Jug" (short for "Juggernaut") by adoring pilots, more than 15,600 Thunderbolts were manufactured between 1941 and 1945 and they served in every theatre of WW 2.

The airframe kit for Steve's model is the TopFlite P-47D Thunderbolt Gasoline ARF. The scale retracts selected by Steve are Robart Main Gear Top Flite P-47D Thunderbolt Giant and power is provided by a DLE-50 petrol engine.
May 2015
Seen here practicing missed approaches at CMAC is Matt Chambers' new scale model of the Curtis P-40 Warhawk.

P-40s first saw combat with British Commonwealth squadrons during June 1941 in the Middle East and North African campaigns, where they were referred to as'Tomahawks' and later 'Kittyhawks'.

Starting with Topflite's Giant Scale ARF kit, Matt has added extra details such as electric Robart retracts, concealed switches, a realistic pilot dummy, and his own-design power-operated sliding canopy.

This very impressive 1/5th scale has 2.85 m wingspan, DLE-55 RA engine and dry weight of 10.4 kg.
April 2015
Waiting for the fog to lift is Ray Botten's Piper L-4A Grasshopper. Ray assembled this model from the VQ Models kit, featuring 2.7 m wingspan and an OS GT33 petrol motor.

The L-4 Grasshopper was a military variant of the J-3 civilian Piper Cub. It was mechanically identical to the Cub, but was distinguishable by the use of a Plexiglas greenhouse skylight and rear windows for improved visibility.

Ray (AUS 6502) is one on CMAC's most senior members, and is widely respected for his tradition of researching and building competition-winning scale-model aircraft completely from scratch. The Grasshopper is his first concession to ARF-construction. We note however that his model's paint job closely resembles that of the privately-owned Piper L-4A with registration OY-ECV.
March 2015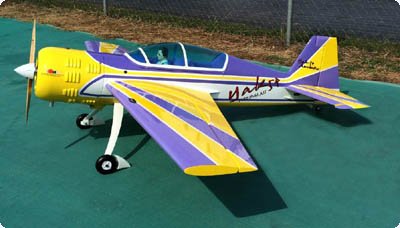 Awaiting still air for its first flight is Chris Prior's CMPro Yak 54-140. This Yak has 71 inch wingspan, is powered by a DLE 20 engine and is radio-controlled by JR DX9 with Nu-Power servos.

Chris (AUS 69153) has been a keen CMAC member since 2008 and holds MAAA Bronze Wings certification.

The full-sized Yak-54 is a 1990s Russian aerobatic and sports competition aircraft designed by the Yakovlev Aircraft Corporation. See Wikipedia: Yakovlev Yak-54 for more info.
February 2015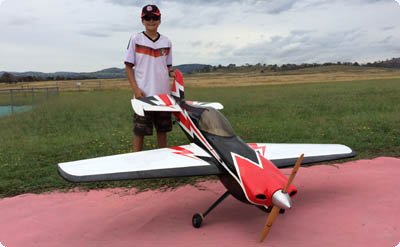 Marius Baumgartner's 29% scale Pilot RC "SBach 342". It has 2.2m wingspan and is powered by a DL 50cc engine through a 22x8 propeller. The RC system is Spektrum, on 7 channels.

The model is very light and supports 3D-style acrobatics well. Marius loves knife-edge and hovering it.

The Sbach 342 is a high performance aerobatic monoplane built by XtremeAir GmbH. Read more about it at Wikipedia: XtremeAir Sbach 342
January 2015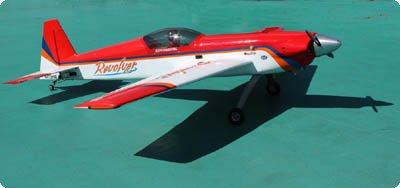 Steve Millar's giant-scale Great Planes "Revolver 50". Featuring an OS 55GT powerplant and a 2.5m wingspan, this thing really goes.

Read more about the Revolver 50 ARF at Step up in simplicity, style and size