General News 2016
Electric & Glider Flight Australia - Edition 6: Tuesday 13 December 2016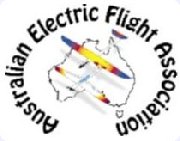 Australian Electric Flight association (AEFA) have now released their 33-page newsletter Electric & Glider Flight Australia - Edition 6. Click the link to download a copy.
Planned Hazard Reduction Burn: Friday 09 December 2016
ACT Parks and Conservation planned a burnoff in the grasslands south of our club this morning. Preparations commenced about 10am, but by 11am the burn had still not commenced due to NW winds gusting 25-30 Kph.
This HRB is one of three planned near CMAC in December, two south of the field and one across Monaro Hwy, to the east of the AMC. See "Planned HRB Sites" map in photos below.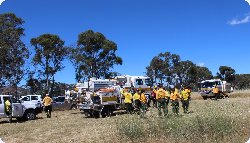 Click for photos
Members are reminded to stop overflying the field as soon as there are people out there, not just when you see smoke.
How Drones Can Help in Humanitarian Emergencies: 02 December 2016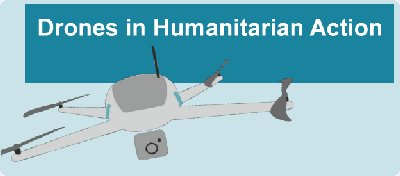 The Swiss Foundation for Mine Action (FSD) launches its comprehensive report on Drones in Humanitarian Action: A Guide to the Use of Airborne Systems in Humanitarian Crises. Click the link to open this 60-page document.
This report was authored for FSD by consultants from Crisis Mappers/The Humanitarian Technology Network, see http://www.CrisisMappers.net.
FSD is an international land mine action organisation based in Geneva, Switzerland. This private, independent, and non-profit organisation was created in 1997. Since then, it has implemented a number of land mine clearance projects in more than 15 different countries. For the past 5 years, FSD has worked with the European Space Agency (ESA) to develop the use of airborne technology in mine clearing projects, and operates mapping drones. For more on FSD see http://fsd.ch
FSD's Title in French is Fondation Suisse de Déminage
CMAC Beyond Gold Aerobatic Challenge 2016: Sunday 27 November 2016

This event followed on from the VQ Taipan-only 2015 event and included some more complex and demanding manouevres than last year. For the full aerobatic schedule see Manoeuvre Diagrams. The use of the Taipan was no longer compulsory this time.
However, the Taipan remained an appropriate model, and three of the five entrants chose the petrol-powered VQ Taipan. Marius Baumgartner flew a very agile electric-powered Extreme Flight Extra 300 and Beate B flew an Ultra Sport 1000 with power in abundance from a DLE-30. According to Peter B, this Ultra Sport was built from scratch many years ago and went through a number of hands, including Terry G, Jurgen Mildner and Ray Murray.
The Challenge was run at the CMAC Field on Sunday morning with two rounds of the aerobatic schedule. Each round took around 30 minutes, during which time normal club flying was suspended to allow clear airspace for the contestants.
The Contest Director for the Challenge was Steve Grzeskowiak and the Contest Judges were Gary Sweet and Justin Galbraith.
Unusually, the wind was from the South for the first round, swinging to the East later, and causing some initial consternation for a couple of the contestants, who evidently had little flying experience in other that the North-North West winds expected on good flying days at this time of year in Canberra.
CMAC Beyond Gold Aerobatic Challenge Results for 2016 were:

| | |
| --- | --- |
| Entrant | Score |
| Beate Baumgartner | 234 |
| Marius Baumgartner | 262 |
| Steve Grzeskowiak | 278 |
| Peter Baumgartner | 282 |
| Gowrie Waterhouse | 294 |
| | |
| --- | --- |
| Click for DMH photos | Click for Peter May photos |
BBC Click TV show about 2016 UAV Challenge - Medical Express now on Youtube: 23 November 2016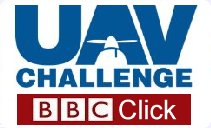 For this 9-minute HD BBC Youtube video documentary see https://uavchallenge.org/2016/11/21/uav-challenge-on-bbc-click/
Special thanks to the UAV Challenge organization for hosting this video production.
Australian Senate Inquiry into RPAS and UAS: 19 November 2016
Following the release by CASA on 19 September 2016 of proposed new regulations concerning Recreational Drones (see for example the brochure "Flying Your Drone for Fun? Know the Rules - Fly Safe"), serious safety concerns have been expressed by airline pilots, airline operators, Air Services Australia and current commercial drone operators.
This negative feedback was encapsulated in the 06 October 2016 ABC release Senator Nick Zenaphon moves to bring down 'dangerous' drone rules recently introduced by CASA.
The Federal Senate has since moved to put on hold the introduction of the new regulations and has initiated an wide-ranging inquiry into the whole business of remotely piloted aircraft and drones. Specifically a Senate Committee is now considering current and future regulatory requirements that impact on the safe commercial and recreational use of Remotely Piloted Aircraft Systems (RPAS), Unmanned Aerial Systems (UAS) and associated systems. For the Committee's terms of reference see Regulatory requirements that impact on the safe use of RPAS and UAS. Submissions to the Committee close 15 December 2017 and their Report is due and by 27 April 2017.
These terms of reference go further than the proposed new CASA regulations and include the use of model aircraft for sport and recreation. Worrying for Australian aeromodellers is the possibility of a new regulatory regime with restrictions like that recently introduced in Sweden, where the country's highest court has ruled that it is illegal to fly camera drones in public places because they qualify as surveillance cameras! See Sweden Bans Flying Camera Drones in Public Places dated 22 October 2016.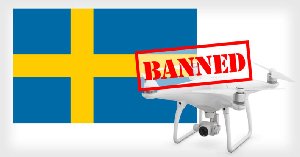 In response, the Australian peak body for model aircraft (MAAA) recently held an urgent meeting of representatives from each state and territory model aircraft association (CMAC's Terry Griffiths representing ACT) and the MAAA Executive is now in discussion with their legal advisers and is preparing a written submission for presentation to the Committee.
Briefly, MAAA's position regarding new regulations is that "we, as an organisation, strongly support the proposition that model aircraft and other RPAS flying must be safe, within the law, must never endanger full size aircraft aviation or interfere with the safety of other persons. However we do not support any reduction in the manner in which our clubs and members operate within the current regulatory framework and exemptions provided by CASA."
For more about MAAA's position see President Neil Tank's 10 November 2016 report Urgent Member Update.
New CMAC Chief Flying Instructor: 03 November 2016
At the CMAC Committee Meeting on 03 November, the currenty CFI, Gowrie Waterhouse, said that he would be stepping down and that Justin Galbraith has volunteered to take up the reins.
Moved by Gowrie, seconded by Terry Griffiths, carried unanimously.
On behalf of us all, Terry Griffiths thanked Gowrie for his long and effective service as CFI to the club.
For Justin's contact details, see About CMAC > Contacts .
Click to enlarge
CanberraUAV team wins UAV Outback Challenge Medical Express: 29 September 2016
Competing in Dalby, Queensland today against teams from Canada, Netherlands, Poland, Thailand and several Australian states, the CanberraUAV team (Stephen Dade, Jack Pittar, Andrew Tridgell and others) were the only group who's UAV -- a VTOL Pilatus Porter -- managed to identify Outback Joe, land at his farm and bring his blood sample back to the Base.
The CanberraUAV team receive their reward: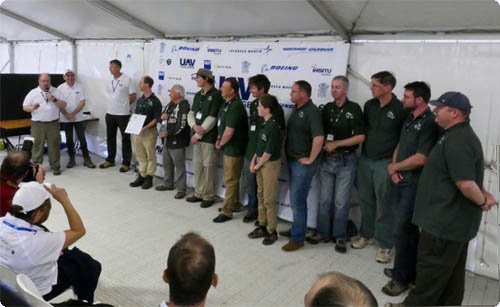 The final scores were:


CanberraUAV were thus first on points but did not complete the full Challenge as their (radio-relay) support aircraft crashed at the farm. However they did return the blood sample and this was a massive achievement and something that the organisers had not expected in the first running of the Medical Express event.
This is the winning VTOL Pilatus Porter: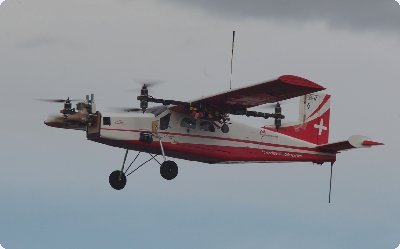 For more pictures see Photo Gallery>Model of the Month: October 2016
For general information about the UAV Outback Challenge Medical Express event see UAV Challenge
For Tridge's report see CanberraUAV Outback Challenge 2016 Debrief
For technical information about CanberraUAV's solution design and implementation see Canberra UAV: Open Source Civilian UAV Development
Success at this level only comes after thousands of hours of painstaking design, development, testing, crashes and rebuilds. To get some idea of the magnitude of the challenges that CanberraUAV faced, read Tridge's article Building, flying and crashing a large QuadPlane
Changes to MAAA MOP056: Safe Flying Code: 30 August 2016
From: Kevin Dodd
Subject: MOP056 Safe Flying Code
Date: 26 July 2016 4:37:44 pm AEST

Dear Secretaries,

Recently the MAAA Executive have been dealing with three incidents, two being 'fly aways' resulting in models impacting in public areas and becoming the subject of complaints to CASA. The third was operating from a full size airfield and resulted in the destruction of the very expensive model ($30,000).

Based on reports received from the three incidents they were all subject to some form of loss or 'reversed' radio signals. At their last meeting the MAAA Executive reviewed the requirements in MOP056 Safe Flying Code and agreed to the changes shown below. While 'fly aways' can occur to any type of model and have done so in the past, it is agreed that taking the steps outlined in MOP056 with regard to range and fails safe checking of RC controlled models , the risk can be reduced.

In the destruction of the expensive model mentioned above, while it cannot be proven 100% due to the model being totally destroyed by fire, there were sufficient knowledgeable modellers on the scene to evaluate and draw a fairly comprehensive conclusion from the events that took place.

In the case concerned, it would seem that when transmission was either reduced or lost and with the engine running, the failsafe activated, however the throttle was reversed through the powerbox in fail safe mode.

Any modellers utilising a 'powerbox' distribution system within their model are urged to check the 'fail safe' while the model is running and being restrained. Simply turning off the Transmitter will check this. Powerboxes need to be set up with the particular brand of Radio equipment being used. We all know there are differences, especially with the throttle set up, between certain brands of equipment.

It would be appreciated if this information could be sent to all your clubs.

Regards
Kevin Dodd
MAAA Secretary
Office: 07 3207 9067
Mobile: 0411645637
CHANGES TO MOP056 WITH RESPECT TO RADIO CONTROL MODEL AIRCRAFT
I will ensure the correct model is selected and have completed a successful radio equipment ground range and fail safe check each day prior to the first flight of any model.

I will perform my initial turn after takeoff away from the pit and spectator areas.

I will not knowingly operate an R/C system within 4 kilometres of a pre-existing model club flying site unless in accordance with the MAAA Manual of Procedures.
For the full text of the MAAA Safe Flying Code see MOP056
Monaro Models and Hobbies Shop to move: 25 August 2016
After nearly twenty years at its present location on Newcastle Street in Fyshwick, Monaro Models and Hobbies is moving to larger and more modern premises at 57 Kembla Street.
MMH Proprietor Terry Griffiths reports that "our new premises will combine the retail AND wholesale arms of the business in the one location. The shop and warehouse are twice the size of our existing shop in Newcastle Street, with terrific parking right at the door. "
Terry expects that his new shop will be fully stocked and open for business in the first week of October.
Watch out for opening specials!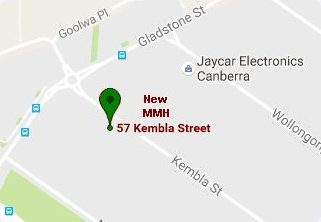 Click to view map and some photos
For progress info on the MMH move and their new product ranges see MMH Facebook
CMAC Membership 2016-17: 18 August 2016
After six weeks of the new financial year the CMAC membership count has reached 92.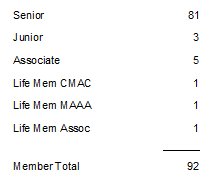 If you still haven't renewed then please take the actions outlined in CMAC Annual Membership Renewal Process.
CMAC Annual General Meeting: 12 August 2016
CMAC's AGM for 2016 was held last night at the Canberra Irish Club, Weston, attended by approximately 50 CMAC members and guests.
Four items of business were conducted:
Elected to the Executive for 2016-17 were:
| | |
| --- | --- |
| Position | Person |
| President | Steve Millar |
| Vice President | Terry Griffiths |
| Secretary | Jack Pittar |
| Treasurer | Brian Malaquin |
Elected to the Management Committee were:
Person
Mitchell Bannink
Darren Case
Darren Keech
Paul McFawn
Gary Sweet
Gowrie Waterhouse
Appointed to the following non-Executive roles were:
Position
Person
Chief Flying Instructor
Gowrie Waterhouse
Safety Officer
Steve Grzeskowiak (to be confirmed)
Large Model Inspectors
Ray Botten
Steve Millar
Hygiene Officer
Byam Wight
Member Registrar
Public Officer (ACT Associations Incorporation Act 1991)
Brian Malaquin
Website Editor
Glenn Ryan
CMAC Membership 2016-17: 14 July 2016
Two weeks into the new financial year and CMAC membership renewals are progressing well. So far 70 renewals have been processed.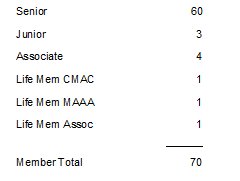 If you haven't yet renewed then please take the actions outlined in CMAC Annual Membership Renewal Process.
CMAC Scale Rally: Sat-Sun 09-10 July 2016
Click for Event Flyer.
Fine and mild weather conditions persisted throughout the weekend of the Rally. A total of 36 entrants registered for the event and there were in excess of 90 models lined up in the pits on Saturday afternoon.
Judging of the models was conducted by the pilots themselves late on Sunday morning. Category winners were:
Military < 7kg
Military >=7kg
1. Martinsyde Elephant - Peter Goff
2. Cessna Birddog - Michael Svarcas
1. Hawker Tempest - Bruce Hoffman
2. Sopwith Pup - Peter Goff
Civilian < 7kg
Civilian >=7kg
1. DeHavilland Tiger Moth - Mike Minty
2. Percival Mewgull - Brian Oakes
1. Cessna - Adam Goulding
2. Monocoupe 110 Special - Peter Reed
Model Of The Meet
Sopwith Pup - Peter Goff
Special thanks are due to co-Contest Directors Glenn Ryan and Steve Millar for their committment to organise, promote and direct the event.
Here is Stan Rucinski's panoramic photo of the Scale Rally models lined-up for judging:
For more photos see Photo Gallery > Event Pix. For Terry Lovett's video production of the flying action see Photo Gallery > Videos.
Bronze Wings for new Member: 26 June 2016
New CMAC member Lap Nguyen - he's so new that MAAA hasn't yet issued his AUS-number - successfully completed his Power Bronze Wings flying test this morning under the watchful eye of CMAC President Terry G.
Welcome to our club, Lap, and congratulations on gaining those Wings so quickly.
Winter is Here: 26 June 2016
At 10am this Sunday morning, outside air temperature had risen from an overnight minimum of -4.8C to around +5C. Traces of Friday's snowfall were still visible on the western Brindabella Ranges.
Clad in their parkas and beanies, many CMAC members turned out to fly in the still air.
However everyone else stopped when Sishei Oya launched his F3D-style R/C pylon racer for some lightning-fast bank-and-yank circuits of the field, with its little 0.40 motor screaming at an estimated 15,000 rpm. See Engines for F3D Pylon Racing Models.
Annual Membership Renewal now due: 20 June 2016
CMAC Annual Membership Fees become due on 01 July each year. For 2016-17 Annual Fees remain unchanged from 2015-16, namely Senior: $218, Junior: $35.
To renew your membership, please follow the follow the lodgement process described in CMAC Annual Membership Renewal Process
Minus Three!: 12 June 2016
After a minimum of -3C earlier on Sunday morning, CMAC's new outdoor wood heater was a popular meeting point. Chris, Karl and Matt chose this location to plan their day's flying programs.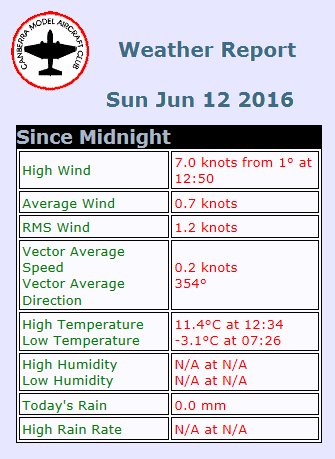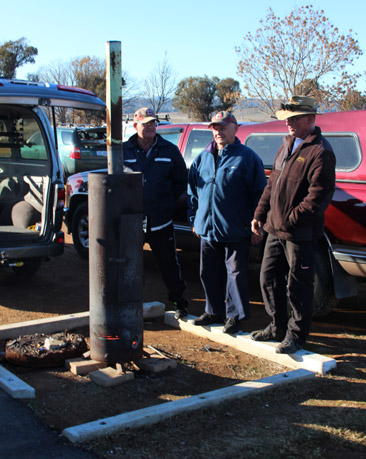 First night-time CMAC Committee meeting in clubhouse: 18 May 2016
On Wednesday 18 May 2016, commencing 19:30,the CMAC committee held it quarterly meeting in the CMAC clubhouse.

It was a cool, windy Canberra autumn evening, but with lighting provided by our solar-panel-charged storage battery bank and heating from our newly-installed slow-combustion stove, the venue proved quite satisfactory. See photo at right.

Prior to the formal meeting, visiting ACTAA President Anthony Robinson and Secretary Arnold Mueller were invited to give a summary of the outcomes from the recent MAAA Council Conference. A key outcome was "no change in MAAA affiliation fees for 2016-17".

On this occasion CMAC Vice President Byam Wight chaired the meeting, as President Terry Griffiths was interstate on business. The minutes of the Committee meeting itself will be published soon on the CMAC News > Members Only page.

Click to enlarge
CMAC Warbirds Day: 17 April 2016
From CMAC President Terry Griffiths:
It's not often that your President is lost for words, but you've almost done it!

Take a bow, CMAC – your hosting and support of the impromptu Warbirds "show & tell" on 17 April was fantastic!! I have no idea how many models and members there were, but it makes me very proud and honoured to be a member – and to be your President.

You should all take credit for making it such a great day, but I also need to thank, in particular, the Cases – Darren and Teena – for their huge effort in making the day such a success, and Steve Millar for the snags. Apologies to the others who undoubtedly helped organise everything – quiet achievers are everywhere in CMAC.

It was also heartening to see all our new members getting involved – a good sign for the future, surely.

There are some who will tell you that traditional aeromodelling is dead, or that it is undersupported in Canberra. Does it LOOK like it's dead?? Pretty good looking corpse, if you ask me…

We might not hold formal competitions these days (but you never know, there may be one or two coming up!), but I reckon that we promote aeromodelling every time one of us talks to a member of the public when they call in to CMAC Field. We promote aeromodelling every time we teach a "wanna-be" into a pilot – something we have done more of in the last year than in any other year in our history! I have no doubt that the public who visited this event will be back to watch, and maybe even participate, in the future.

We are, I believe, a pretty inclusive and accepting bunch of blokes (and female blokes….) and it is this willingness to cater for as many aspects of this great hobby as we do which will ensure our survival.

Thank you once again for a terrific day, and for being a brilliant mob of modellers.
Terry Lovett has produced this video of the Warbirds day: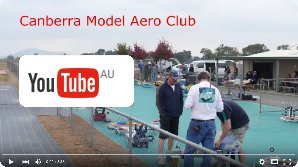 Click image to watch on YouTube
... and here are some photos of the event:
ACT Rural Fire Service conduct Eco Burn at CMAC: 03 April 2016
On Sunday afternoon, with a light easterly wind blowing, three RFS units - Parks 25, Parks 800 and Rivers 20 - conducted a prescribed burn to promote ecological diversity in the CMAC paddock to the west of our sub-lease. For more info on prescribed burns in Canberra see About Prescribed Burns
CMAC received notice of the burn at 08:30, and the RFS trucks entered the field through the northern gate at about 11:00, while flying was suspended.
Here are some photos of the burn, plus a screenshot of the ACT Emergency Services Agency's incident mapping system at the time, and a snap of some ibis monitoring the action.
NEFR 2016 hosted over Easter by NAAS: 25-27 March 2016
This year, Australian Electric Flight Association's (www.aefanet.com) annual National Electric Flight Rally was hosted over the Easter weekend by Canberra's NAAS Club, concurrently with MAAA's F5J National Championships.
In near-perfect soaring conditions down at the NAAS field, over 30 flyers took part in the NEFR Radian competition and another 30 entered the MAAA F5J event. Winners were Bob Hickman (Radian) and Mal Pring (F5J).
CMAC representatives included Tom Ruut and Paul Williamson with his son Felix.
Stan Rucinski (Mr Skydart) has now published an excellent eighteen-minute YouTube slideshow of NEFR 2016, accompanied by music and the sounds of nature. To view his slideshow click this link https://www.youtube.com/watch?v=cwU0MvZrJQ8.
Wind Damage at CMAC Field: Saturday 19 March 2016
CMAC President Terry Griffiths reports:
"Passing the field yesterday (Friday) afternoon, I found that the wind has lifted the covering from the pits, and rolled it up against the fence. There was also some damage around the starting barriers.

I bought a couple of hundred 6" screws to repair it with – they look better than the nails we normally use. I also arranged to meet Darren Case and Gary Sweet out there early this morning (Saturday), and with help from several other members, we were quickly able to rectify the damage and allow normal weekend operations to resume."
Here is an image retrieved from the CMAC Webcam archives. Dated Friday at 16:01, it shows how a strong wind gust had pulled up about 30m of the pit covering in front of the clubhouse and piled it against the eastern pit fence.
"Beyond Gold Aerobatic Challenge 2016" Update 1: 14 March 2016
Steve Grzeskowiak reports:
Here is a new version of the Beyond Gold 2016 Schedule with schematic Arresti Diagrams of each manoeuvre. Thanks to Peter Baumgartner for this artwork.

Also attached is the Beyond Gold 2016 Manouevre List in the order that we will fly them. Some people find it useful to print this out, stick it on some card and have to hand while practising. I attach mine to my transmitter antenna, which is easy to do on an old 35 MHz set.

I have arranged for interested people to meet at the CMAC field on Sunday 20 March 2016 at 10 am for a chat about: The Schedule; Aircraft Trimming; Which aircraft people are planning to use; Tips on accurate flying and How to practice; Question and Answer session.

We still haven't settled on a date for the challenge day, but it's likely to be later in the year, perhaps around September 2016 so that we have plenty of time to practice.
Working Bee at CMAC Field: 12 March 2016
A number of keen CMAC members gathered at the CMAC field on Saturday morning to complete these tasks, before the forecast afternoon rain storms:

remove trip hazard - cut off exposed roots around the big tree just south of the pits and fill in the holes
relocate model assembly table - dig out steel table cemented down against the pit fence, move it further away and re-cement in new location
prepare ground for planned extension to the northern end of main airstrip
further mowing of helicopter area
miscellaneous clean-up tasks

The CMAC Committee thanks these members for their special committment to the club.



Click to enlarge
Daren Case wins MAAA Silver Wings: 11 March 2016
Popular new CMAC member Darren Case - AUS 83253 - recently completed the MAAA Silver Wings flying test. Good Work Darren!

Here he is receiving his Silver Wings badge from CMAC President Terry Griffiths in Terry's Monaro Models and Hobbies shop, Fyshwick.

Download the MAAA Silver Wings test schedule "MAAA016-Power Bronze and Silver Wings" from MAAA Website page Club Support > Forms


Click to enlarge
Andrew Tridgell at linux.conf.au 2016: 07 March 2016
Andrew Tridgell, a member of the CanberraUAV team who won the UAV Challenge Outback Rescue in 2012 and 2014, gave a great lecture last month at linux.conf.au 2016 in Geelong.

He talked in some detail about the UAV Challenge and how he helped create the APM series of open source autopilots.

Watch Tridge's lecture titled "Helicopters and Rocket-Planes" on YouTube AU

For some pix of Canberra UAV's recent experimental VTOL UAV at CMAC see CMAC News > News 2015

For a brief report on their win at the UAV Challenge in September 2014 see CMAC News > News 2014




"Beyond Gold Aerobatic Challenge 2016" Schedule Released: 06 March 2016
Steve Grzeskowiak reports:
"So far there are 10 of us that have expressed interest in the 2016 CMAC Aerobatic challenge, including a few new faces compared to last year's crew. I anticipate that we may add another couple of people in the next couple of weeks. I am aware that one or two may decide not to take part depending on the schedule.
So here it is: CMAC Challenge 2016 Schedule.
The Schedule shows the list of manoeuvres that we will fly in the challenge. It's similar to last year with the upwards flick roll replaced by straight inverted flight, a slight re-ordering of the manoeuvers, and an additional turn in the spin, which makes it easier to recover on the right line. I have asked Peter B to draw up the schedule so that we can see it schematically. Thanks Peter. We should have that soon.
It would be worth us getting together at the field sometime soon so that we can see who we all are, and chat about any aspect of the challenge. The prospect of all of us being available on the same day is remote, so I reckon I'll just pick a date and see who turns up.
Let's try Sunday 20 March at the club at around 10am. If you can't make it please let me know.
By then we should have the schedule schematic and we can talk through:
The schedule
Aircraft Trimming
Which aircraft people are planning on using
Tips on accurate flying
How to practice
... and other stuff
Regards
Steve Grzeskowiak
e: cumulus1@grapevine.com.au
m: 0404 042 487

Death of John Rawlins, 04 March 2016
Long-time aeromodeller John Rawlins (Aus 6742) died recently at his home in Nelson Bay, NSW, aged 83. John was still an active member of the NACA Control Line club at that time.
Older Canberra aeromodellers will recall John's "pommie" accent as he represented BMAC enthusiastically in most rounds of the annual ACTAA Thermal Glider Championships throughout the period 1997-2004. Here are the scores from the 2002 Competition listing the names of the Open Class competitors that year, including John's.
The Quest for Gold: Submitted by Ray Murray 25 Feb 2016
"I don't remember when Duc Mai (AUS 75632) and Jeffrey Mai (AUS 75633) joined the club, at least 2 years ago I think. These two boys are identical twins. Unless they wear different clothing I can't tell who is who! Made instructing difficult sometimes.
The boys started to learn to fly with an E-flite Apprentice, an excellent choice. Their first goal was to obtain their Bronze wings. This was not a difficult task, as most young boys these days have access to computers, IPads etc., that they can play games on that improve their hand-eye coordination to a great degree. This was quite evident when Jeffrey and Duc got over their initial nervousness and started to enjoy themselves.
After receiving their Bronze wings I altered the "Apprentice" so that it could do some advanced manoeuvres.
dispensed with the Y-lead so that we could adjust the ailerons separately.
did away with the stabilisation system.
Put differential in the ailerons.
Moved the CG slightly rearward.
Adjusted the front throws to achieve the desired movements required for aerobatics.
I told the boys that they had to learn to fly straight and level, not as easy as it seems, loop, roll and fly inverted. These are the basic manoeuvres that must be learned thoroughly before attempting more complicated manoeuvres.
That poor old "Apprentice" got quite a battering. We even took it slope soaring at Lake George where it did quite well - never turned the motor on except to helping landings. We returned to the Lake on several occasions with different soarers, this got the boys used to flying in strong winds, and we surely flew that "Apprentice" at our field in winds that sent most of our members home.
When I thought Duc and Jeffrey had sufficient skills I let them fly any of my models that I had at the time. All through this training period there where other models provided by Geoff Jacob, Tom Ruut and Steve Millar for them to try. They got a huge thrill and boost in confidence when Chris Thorn let them fly his "Blue Angel". This is a beautiful looking swept wing, fast, smooth flying pattern model. A joy to watch.
So the time had come to get a model that was capable of doing the Gold Wings manoeuvres precisely and smoothly. The "Apprentice" was showing its age and although it could do most things, could not get enough rudder or elevator throw to achieve spins. Fortuitously Beate Baumgartner had a low-wing model for sale that was ideal for the task and the boys purchased the Black Horse Super Air from her. After a few flights to get familiar with it and to get the control throws right, the boys were soon doing the Gold Wing schedule to my satisfaction and so on Sunday 7th Feb under the watchful eye of Steve Grzeskowiak they flew the pattern to his satisfaction.
Their Quest for Gold had come to a very pleasing and happy conclusion. Congratulations Jeffrey and Duc. They also celebrated their 14th Birthdays on the 18th Feb at the Wings Presentation.
I must say that for me the whole experience was a pleasant and rewarding time. It's amazing how many things that you have forgotten or assume that others people know, until you start to teach someone to fly. So, if some of you are just starting to learn how to fly on a light foam trainer, I would like to pass on some very good advice given to me by Tom Prosser, Australia's most renowned pattern flyer. He says "never get a new model until you can do all the things your present model can do". Get an experienced modeller to show you what it can do, it may surprise you!
So what's next for Duc and Jeffrey? Quite probably the Sportsman's Aerobatic Schedule. Good Flying!"
Download the MAAA Gold Wings test schedule "MAAA017-Power Gold Wings" from MAAA Website page Club Support > Forms
CMAC Aerobatic Challenge 2016:
Beyond Gold
Dear CMAC Member
Are you interested in improving your flying? We are planning on running the Beyond Gold Challenge again in 2016. For those not familiar with the Challenge it is aimed at improving peoples flying in a relaxed, non-competitive, round of flying a pre-set aerobatic routine.
We'll set a date later in the year for the actual challenge flying day, but the plan is to encourage people to learn how to trim and fly their models to achieve a flying level beyond Gold Wings.
Last year we had eight people in the challenge, of which 6 flew on the challenge day. All agreed that while some of the manoeuvres seemed hard at first, with a bit of practice, and some guidance from Chris Swain – former member of the Australian aerobatic team, we all improved our flying and were successful on the challenge day.
While all of the participants last year used the VQ Taipan model aircraft, that's not compulsory. This year we have dropped the name Taipan from the name of the challenge to emphasise this point. The VQ Taipan remains a very appropriate model with which to take part.
The aim is to keep the event to simple aerobatic models, you could take part with almost any model, but the spirit of the event is encapsulated by those simple aerobatic type models that many of us have, or even a good low wing trainer capable of loops and rolls. High end aerobatic or IMAC models are not really in the spirit of the thing.
I intend to adjust the aerobatic schedule slightly from last year to remove one manoeuver that no one could really do well, the 45 degree climbing flick roll, and replace it with something a little more achievable.
But first, I need to know how many people would like to take part this year, and hear any ideas that you might have about changes from last year's format.
I would be pleased to hear from those wanting to get involved and then we can start the ball rolling with a new schedule to practice on.
If you are interested just reply by e-mail to Cumulus1@grapevine.com.au or come and chat at the field.
Regards
Steve Grzeskowiak
Gary and Andrew get their (Silver) Wings, Sunday 07 Feb 2016
This photo, provided by Darren Case, shows Gary Sweet & Andrew Komnacki just after receiving their MAAA Silver Wings at CMAC on Sunday 07 February 2016.
Good work Gary and Andrew! Your next goal could well be passing those Gold Wings (Power) tests :o)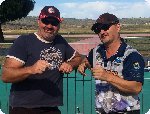 Click to enlarge
The standard the MAAA regards as being suitable for Solo Fixed Wing is Bronze Wings for models with a dry mass (excluding fuel, but including all batteries if electric powered) of 2Kgs and under and Silver Wings for models with a dry mass (excluding fuel, but including all batteries if electric powered) over 2Kgs.

For the MAAA Silver flight requirements and test schedule see FIXED WING POWERED – BRONZE WINGS or SILVER

For the MAAA Gold Wings flight requirements and test schedule see FIXED WING POWERED – GOLD WINGS
New aircraft assembly tables at the club house, Sunday 14 Feb 2016
You would've noticed the new aircraft assembly tables around the CMAC club house. One of CMAC's newest members, Darren Case (AUS 83253) has dedicated a lot of his own time to designing and building thes tables.
Darren has now installed a permanent table at the helipad and delivered several tables on wheels so they can be moved anywhere around the grounds.
His engineering skills have made a big difference to CMAC members as aircraft assembly is now much easier at our flying field.
Darren's at the CMAC field most weekends, so don't be afraid to say hi and tell him what a great job he's done!
Click to enlarge
And Darren's partner - Teena - is also volunteering her time to improve the social life at CMAC. For example, on Sunday morning at CMAC club house, Teena supplied the food, fired up the portable barbeque and cooked sausages for forty or so grateful CMAC members. Outstanding!
Here is Teena Case, hard at work, with Darren looking on: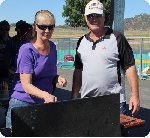 Click to enlarge
Manage your own MAAA Member Register contact details on-line, 12 Feb 2016
Each year CMAC automatically registers its financial members as Members of MAAA.

MAAA now provides secure on-line access to your Member Register record for you to check that your contact details are up-to-date and then to edit them as necessary.

To use this on-line service you'll first need to apply for your personal MAAA login code. Just go to MAAA Membership Register and click the Register link.

Among other benefits MAAA membership looks after all of your insurance needs, offering comprehensive public liability insurance as well as a personal accident policy. For details see MAAA Membership Benefits.
Steve Millar appointed as Heavy Model Inspector, 10 Feb 2016
Steve Millar has now completed MAAA certification as CMAC's second Heavy Model Inspector (Fixed-Wing, Power).

To date, Ray Botten has had sole responsibility for this important role at CMAC. See Useful Info> Committee.

Before being operated at CMAC, model aircraft between 7 Kg and 25 Kg in take-off weight must be cleared for flight by a Heavy Model Inspector such as Steve or Ray.

The procedures required to inspect and operate heavy models are specified in the MAAA Manual of Procedures as: MOP15: HEAVY MODEL AIRCRAFT INSPECTION AND OPERATION PROCEDURE.
Paul McFawn passes MAAA Gold Wings test, 03 Feb 2016
CMAC Secretary Paul McFawn reports...
"After years of model flying I decided I should do the right thing and go for my MAAA Gold Wings certification.

I've been practicing the test schedule since early Jan, and did the flying test this morning with Ray Botton officiating as the testing instructor. I passed!

Very happy and many thanks to Ray for being my examiner. "
Linton Wilton took these photos of the occasion:
For the MAAA Gold Wings flight requirements and test schedule
see FIXED WING POWERED – GOLD WINGS
MAAA President's Newsletter, 28 Jan 2016



Click to read MAAA President's January 2016 Newsletter
Kelly Ryan learns to fly R/C, 24 Jan 2016
Kelly Ryan -- mother of two small boys and partner of CMAC member Glenn Ryan -- is learning to fly R/C. Today Kelly completed her fifth dual-control flight with her Phoenix Classic Sport 40, under the careful supervision of CMAC Instructor Steve Millar.
Kelly has now successfully executed a range of manouevers including circuits, figure-eights, take-offs and (most challenging for beginners) landings. Steve reports "she'll be ready soon for her first solo".
CMAC congratulates Kelly for her determined efforts to master the Sports 40.
Click to enlarge
Maiden flight of Steve Millar's 50cc Zero, 10 Jan 2016
Early Sunday morning at CMAC and all was quiet ...

... until Steve stepped out with his new 50 cc Top Flite Zero for its maiden flight.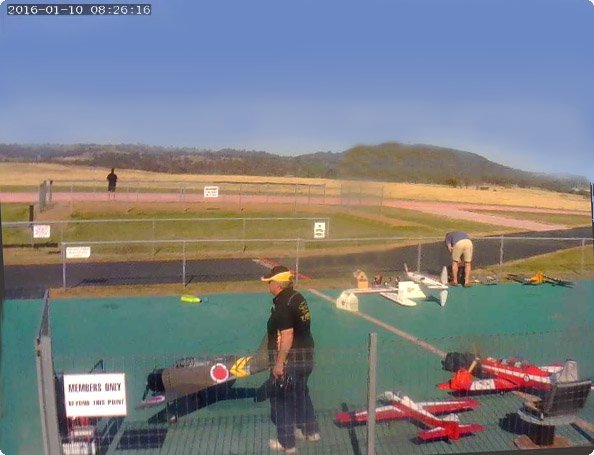 After a safe landing back at base ...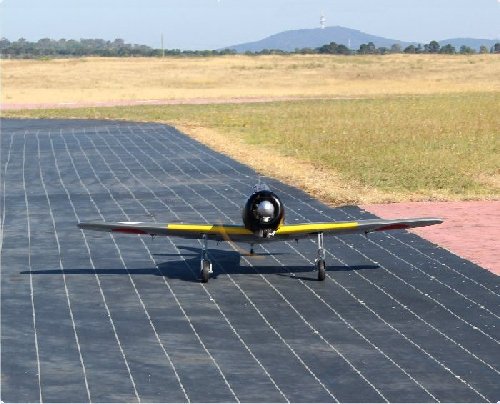 ...a very happy Steve report that it flew beautifully "right out of the box".
For more info see Top Flite Zero: Almost Ready-to-Fly 50-60cc Gas Giant Scale Warbird
Interview with Byam Wight of "The Planter People" , 05 Jan 2016
Have you noticed all the outdoor flower displays in hanging baskets that decorate the Canberra City streets again this summer? This is the seventh year that The Planter People have had the 'Canberra Central' contract with the ACT Government and they are now maintaining the display of over 1400 plants each year from November to mid-March.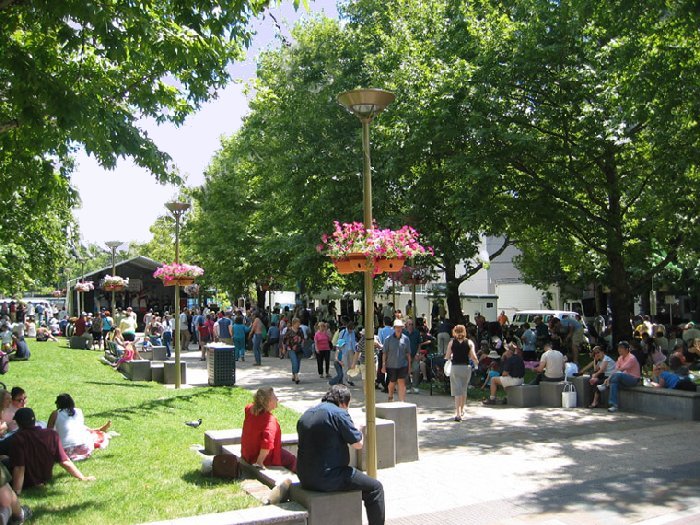 That the flowers all looks so fresh and colourful each day, right across the summer, is thanks largely to the early morning efforts of CMAC Vice President Byam Wight, one of the Planter People.
Byam reports:
"Its sort of like painting the Harbour Bridge - when you finish you start again. We have a Toyota Hilux set up with a 1200 litre tank and a pump and I get there before all the shoppers start at the crack of dawn and do a third of them each day.

It's a tremendous experience when people tell me they have changed their route to work, so they can walk past the flowers each morning."
Donations for hosting Commercial Signage, 04 Jan 2016
Back in October 2012 the CMAC Committee:
retained a commercial mowing contractor (Jims Mowing Jerra) to take over the CMAC flying field mowing task from volunteers
attracted commercial signage to the CMAC field with associated donations to offset the cost of the commercial mowing service.
CMAC has now billed Capitol Chilled Foods Australia Pty Ltd ("Canberra Milk") and GJ Gardener Homes Pty Ltd for their 2016 annual donations of $2000 each in return for prominent hosting of their respective signs on the Monaro Highway side of the CMAC Clubhouse.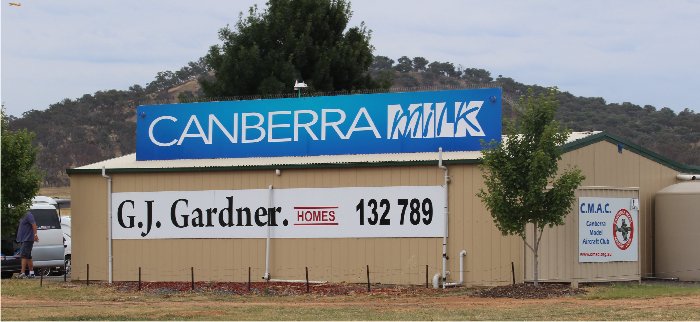 Chicken Stick in use, 03 Jan 2016
Sunday morning at CMAC, and a new sound is heard across the field as Ray Ogle fire up the motor on his partially-finished large-scale Spitfire for the first time.
Note Ray's safety precautions, including multiple webbing tie-downs on the test stand, extra restraining muscles from Justin Galbraith, head well clear of the prop arc and the use of a "chicken stick" rather than fingers to turn over that massive propeller.